2023-2024 KATY ISD SEMESTER EXAM EXEMPTION REQUIREMENTS  
2023-2024 KATY ISD SEMESTER EXAM EXEMPTION REQUIREMENTS
Semester exam exemptions will be offered during Fall & Spring Semesters for the 2023 – 2024 school year. Below are the required semester exemption requirements. In KISD, Semester Exam Exemptions are offered as attendance and behavior incentives for students. Exemptions are determined by course.
To qualify for an exam exemption in a course, a student must have met the following criteria per semester, per course:
An average of 80 or higher for the semester.
No more than FIVE (5) non-school related absences (see note below).
No more than TEN (10) tardies;
No N in conduct for the course and no U in conduct for any
No ISS, OSS, OAC/DAEP Placement, or JJAEP Placement.
No outstanding fees or fines.
Must have been enrolled in the course by the 10th day of instruction; and
Meet campus specific requirements related to exemption submission deadlines and verification procedures for securing their exemptions.
The number of available exemptions per grade level is as follows: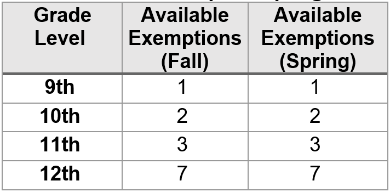 Please note: The following absence codes do NOT count toward the five (5) allowable excused & unexcused absences:
P: Present but not in class
S: School-sponsored curricular and extra-curricular activity that is not UIL related
V: UIL and other competitive activity
Final Exam Exemption Clarifications:
Except for seniors, students may not exempt the same course final for both the fall and spring semesters.
Advanced Placement (AP) Exams:
Students enrolled in an AP course who successfully sit for the AP exam for that course may elect to exempt the final exam in the Spring semester.
The final exam exemption for an AP exam does not count toward the maximum number of exemptions for that student's grade level.
HCC Dual Credit & College Prep courses CANNOT be exempted.
---