GPA EXEMPT COURSE INFORMATION
GPA EXEMPT COURSE INFORMATION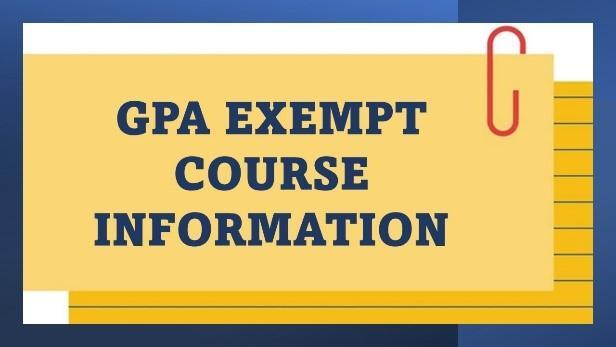 High school students are encouraged to pursue their areas of special talents and interest to enrich their academic experience. Students are encouraged to continue in their Fine Art, Athletic, and Career and Technical Education (CTE) programs as they continue to excel in their academic and extra/co-curricular endeavors. Once approved, students will receive credit for the GPA exempt course but will have their grade excluded from the GPA and class rank computation. Students must have a 4.0 or above GPA and maintain a B average in the GPA exempt course to qualify and maintain eligibility. This option is available to students in their 2nd, 3rd, or 4th full year. View the GPA Exempt Course Information for a list of courses identified as GPA-exempt eligible for this school year:
**GPA Exempt Tile opens on August 16th in My Katy Cloud and closes September 21st
2023 – 2024 GPA Exempt Courses and Information and GPA Online Exempt Application
The GPA Exempt Courses Information and Online Application are located within the GPA Exempt tile on MyKaty Cloud.
Students interested in taking one of the GPA Exempt courses must discuss this option with their counselor at the beginning of the course. If the student meets all of the criteria, they must:
Complete the online GPA Exempt application located in MyKaty Cloud.
Submit the application no later than the determined deadline. At this time, if all criteria are met, it will be approved, and a course change will be made to reflect enrollment in a GPA Exempt course.
Once the student makes the decision to take a course as GPA-exempt, the decision is final and cannot be changed.
Students enrolled in full-year courses do not need to reapply during the second semester.
Students, including move-in students, who miss the deadline for application for the first semester, may apply for exemption for the second semester if they meet the criteria.
*Note: Parents and Teachers will be notified throughout the process.


---